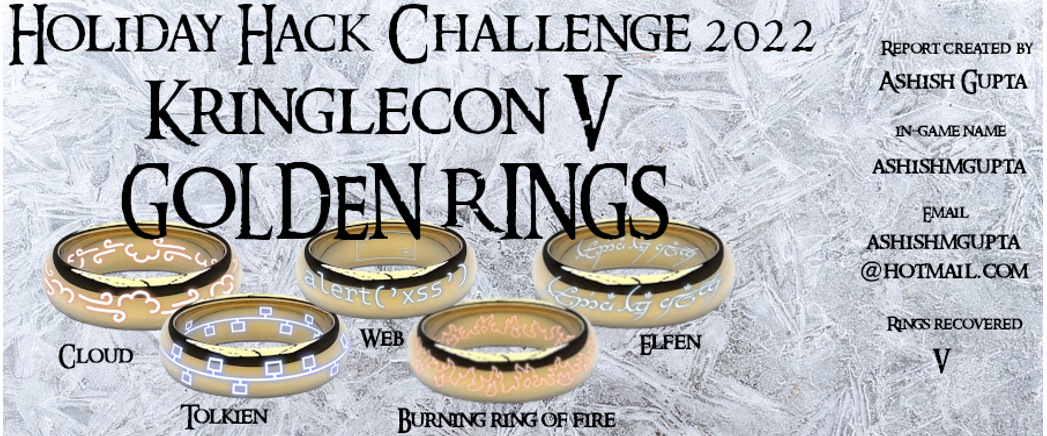 Overview
Hello and welcome to my SANS Holiday Hack Challenge 2022 write-up.
SANS Holiday Hack Challenge is a holiday themed and gamified cybersecurity competition.
The hands-on challenges encompass a number of cyber security areas namely network security, application security, cloud security to name a few.
This year the challenge is based on "Lord of the Rings" series.
You are tasked to recover 5 golden rings with each ring requiring you to solve several challenges.
Completing all the challenges also uncovers the whole story.
You can read more about the challenge on SANS official website here.
Details on each objective can be accessed from left navigation



Objectives completed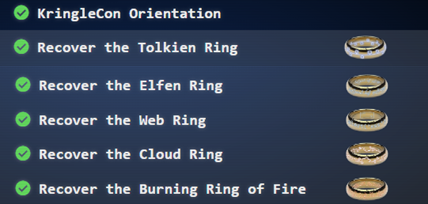 The uncovered story
Five Rings for the Christmas king immersed in cold.
Each Ring now missing from its zone.
The first with bread kindly given, not sold.
Another to find 'ere pipelines get owned.
One beneath a fountain where water flowed.
Into clouds Grinchum had the fourth thrown.
The fifth on blockchains where shadows be bold.
One hunt to seek them all, five quests to find them.
One player to bring them all, and Santa Claus to bind them.